"Macht - Mythos - Märchen", 2021, oil, acrylic, lacquer and spray paint on objects produced of wood, paper mache and canvas, Kunstverein Ahlen, photo by Jonas Hartz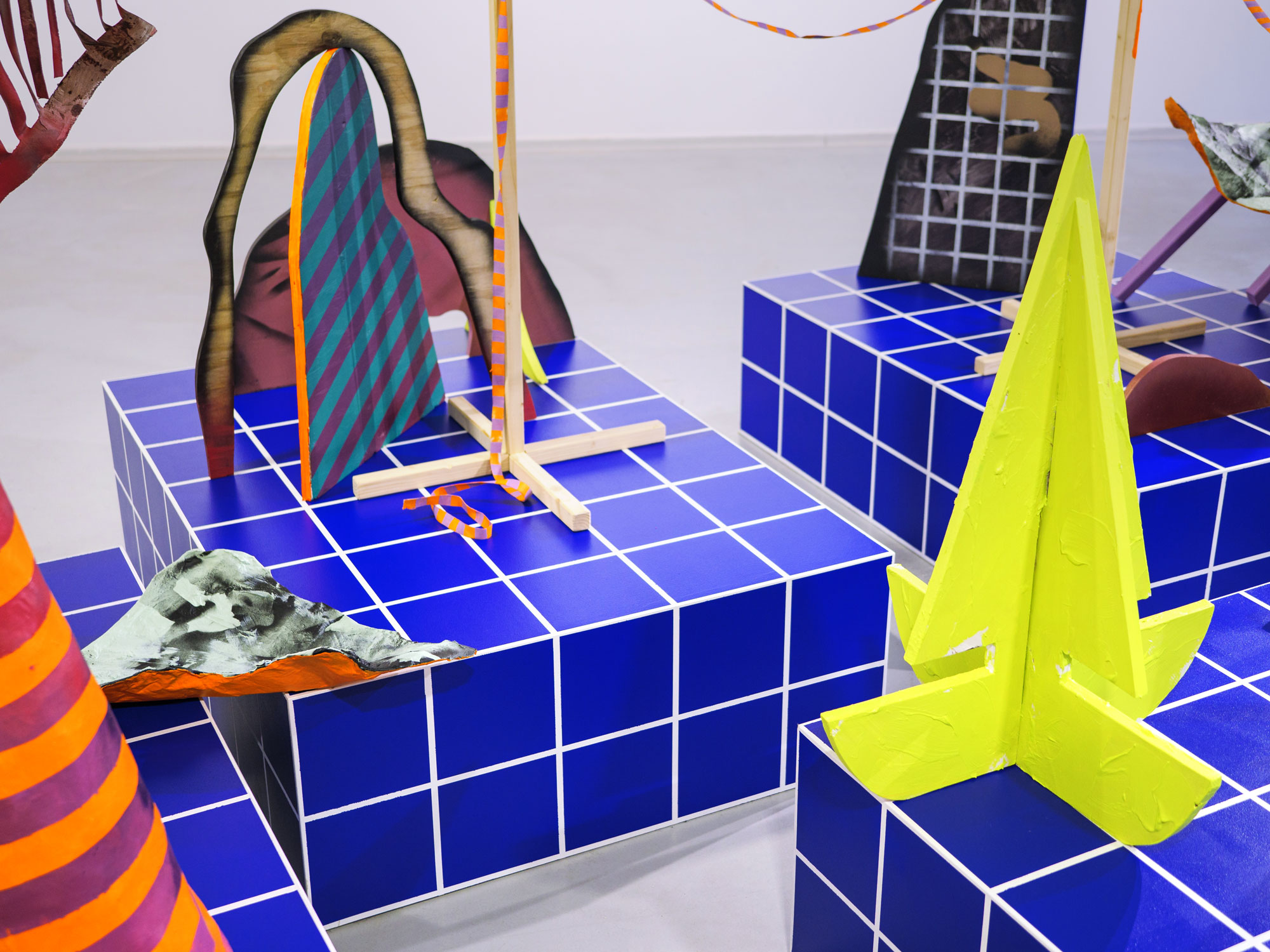 "Macht - Mythos - Märchen", 2021, photo by Jonas Hartz
"Macht - Mythos - Märchen", 2021, photo by Jonas Hartz
"Ahlener Doppel", group show, Kunstverein Ahlen, 2021, photo by Jonas Hartz
Macht - Mythos - Märchen
Mit der Installation "Macht - Mythos - Märchen" nimmt Malwin Faber Bezug auf das Gemälde "Stadt - Land - Fluss" von Wolfgang Steinberg aus dem Jahr 1994 und übersetzt das Bild in eine Rauminstallation. Mit der abstrahierten Bildsymbolik, plastisch umgesetzt in bemalte skulpturale Objekte aus Holz und Pappmaché, die auf sechs Podesten platziert sind, spielt Faber auf die Entdeckung, Kartografierung und Expansion in bisher unbekannte Kontinente durch die europäische Seefahrt an.
Die Rauminstallation ist nicht nur eine Interpretation und Übersetzung eines spannungsgeladenen Bildraums in ein physisches Raumbild, sondern eröffnet eine neue Perspektive auf Malerei im Raum. Wie in Malwin Fabers Malerei auf Leinwand treten auch hier gestische Spuren, geometrische Formen und Linien sowie materielle Texturen auf den Oberflächen der verschiedenen Objekte auf. In der Kombination von bildhauerischen Elementen und malerischen Techniken entstehen eine Vielzahl skulpturaler Objekte, die Malwin Faber auf einer theaterhaften Kulisse inszeniert.
Power - Myth - Fairy Tale
With the installation "Macht - Mythos - Märchen (Power - Myth - Fairy Tale)", Malwin Faber references Wolfgang Steinberg's painting "Stadt - Land - Fluss" (City - Country - River) from 1994 and translates the image into a spatial installation. With the abstracted image symbolism, translated into painted sculptural objects made of wood and papier-mâché, placed on six pedestals, Faber alludes to the exploration, cartography, and expansion into previously unknown continents through European seafaring.
The installation is not only an interpretation and translation of a tension-filled pictorial space into a physical spatial image, but also opens up a new perspective on painting in space. As in Malwin Faber's painting on canvas, gestural traces, geometric shapes and lines, and material textures appear on the surfaces of the various objects. Combining sculptural elements and painterly techniques, a variety of sculptural objects emerge, which Malwin Faber stages on a theater-like backdrop.
Referenced work
Wolfgang Steinberg, "Stadt - Land - Fluss", 1994, arcylic on canvas, 120 × 161 cm