"Bilder heute, Welten morgen", 2022, Horror Vacuii, Leipzig
"22-003", 2022, oil, acrylic and spray paint on canvas, 80 × 70 cm
"22-004", 2022, acrylic and spray paint on canvas, 80 × 70 cm
"22-002", 2022, oil, acrylic and spray paint on canvas, 80 × 70 cm
"22-009", 2022, oil, acrylic and spray paint on canvas, 80 × 70 cm
"22-018", 2022, oil, acrylic and spray paint on canvas, 80 × 70 cm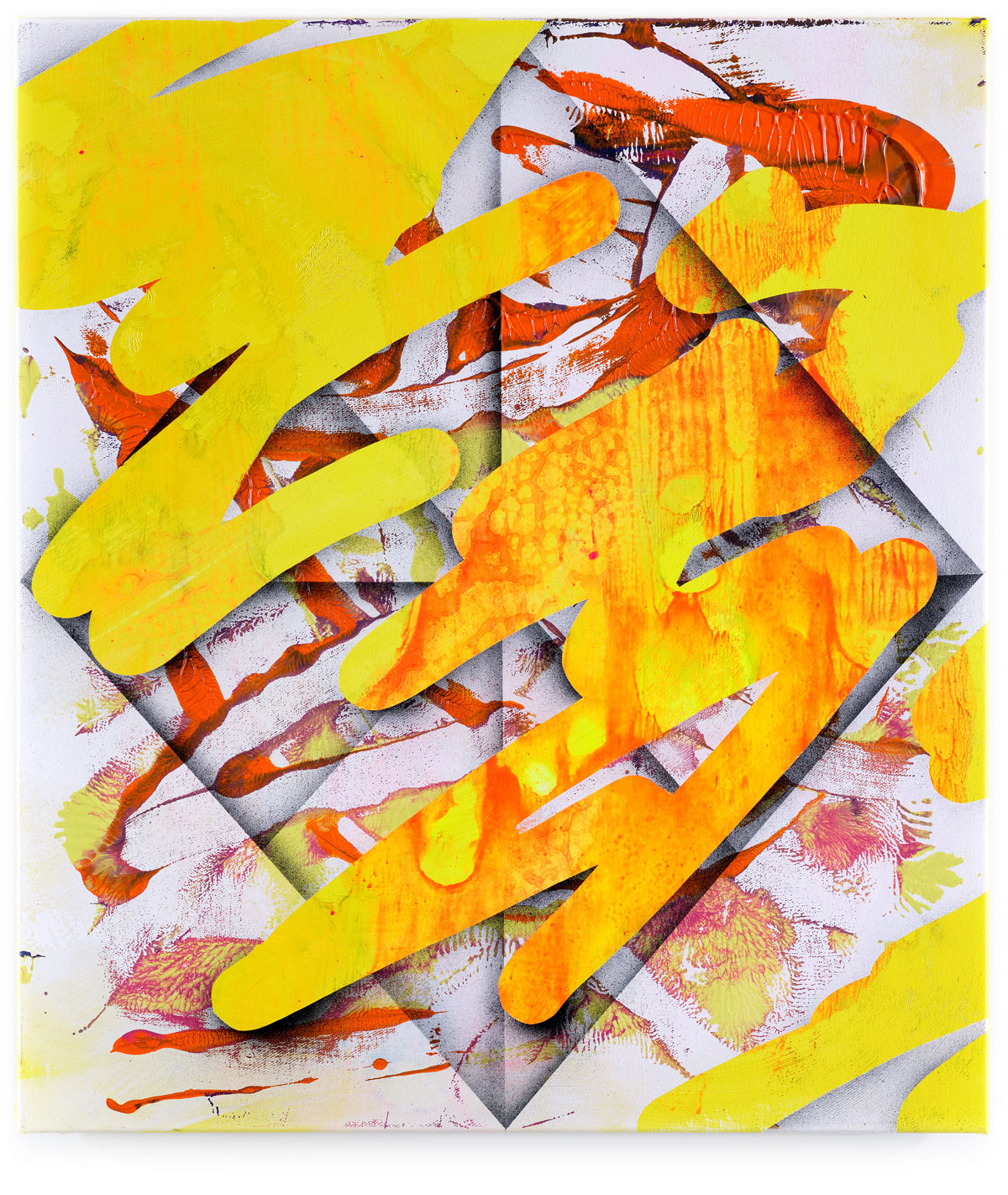 "22-010", 2022, acrylic and spray paint on canvas, 80 × 70 cm
"22-007", 2022, oil, acrylic and spray paint on canvas, 80 × 70 cm
"22-011", 2022, acrylic and spray paint on canvas, 80 × 70 cm
"22-015", 2022, acrylic and spray paint on canvas, 80 × 70 cm
"22-016", 2022, acrylic and spray paint on canvas, 80 × 70 cm
"22-019", 2022, oil, acrylic and spray paint on canvas, 80 × 70 cm
"23-010", 2023, oil, acrylic and spray paint on canvas, 80 × 70 cm
"Resonanzfrequenzen" (Solo), 2023, Kunstverein Ahlen
Konkrete Vereinbarung
© Veronika Schöne
In der Serie "Konkrete Vereinbarung" variiert Faber das immer gleiche Motiv einer das Bildfeld durchmessenden großen Raute, die aus vier kleineren Rauten zusammengesetzt ist. Sie werden mal von den Pinselschwüngen wie in einer Pendelbewegung umkreist, mal verdeckt und stehen dadurch teilweise frei in einem Bildraum, der dennoch eigentümlich flach bleibt. Die Räumlichkeit lässt sich eher erschließen als dass sie durch geometrische Konstruktion erzeugt wird. Die Wahrnehmungsweisen von Raumordnung und Flächengliederung, von Davor und Dahinter kollidieren und versetzen den Betrachter in einen Zustand fortwährender Verunsicherung, wie Fabers Bilder nun eigentlich zu erfassen sind. Man springt von einem Anhaltspunkt zum nächsten und fängt gleichwohl immer wieder von vorne an.
Concrete Agreement
© Veronika Schöne
Translation: Andrew Irvin
In the series "Konkrete Vereinbarung (Concrete Agreement)", Faber varies the same motif of a large diamond traversing the picture field, composed of four smaller diamonds. They are sometimes circled by the brushstrokes in a pendulum-like movement, partially covered, and thus appear partly free in a pictorial space that nevertheless remains strangely flat. The spatiality is more inferred than generated through geometric construction. The perceptions of spatial order and surface segmentation, of foreground and background, collide and leave the viewer in a state of continual uncertainty about how to grasp Faber's images. One jumps from one point of reference to the next, and yet constantly starts over.